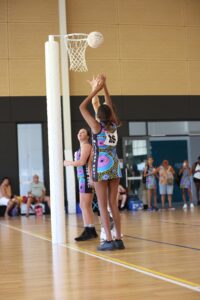 "Follow your dream. Sometimes it may be tough but you've got to just try again and again. Don't give up." These are the words of 15-year-old Noongar Yorga young carer and up and coming netball champion, Jada.
Jada is the eldest of 4 siblings and carer for her younger sibling with Autism. When she's not taking on extra responsibilities to care for her family, mentor her younger siblings and attend school, she is out on the netball court smashing goals.
On the netball court she comes to life. The thrill of the game and the exhilaration of working alongside her peers to score a goal is what she loves about the sport. That and the lifelong bonds she has made with her teammates.
Jada began by playing weekend netball with her school in Rockingham. As her natural talent quickly showed she progressed to playing for Western Heat WA Indigenous Netball. She even went on to be selected to represent the team at the WA at state finals in 2022.
For Jada, it hasn't been an easy pathway to success. Despite her natural talent and love for the sport, she has had to overcome personal challenges, show extreme mental resilience and has put in hours of hard work and commitment.
The Young Carer team at Carers WA were able to work closely with Jada to explore her aspirations and goals and to overcome some of the financial barriers that were holding her back. They also worked closely with her school to advocate for opportunities to accommodate her caring role. Together with Jada's family, Carers WA was there to celebrate the small and big wins along the way.
In the future, Jada hopes to continue to pursue her passion in netball. She is applying for the Sports Development Program at SEDA College for her year 11 and 12 studies. These studies will set her up for a future in professional sport and align her with opportunities to join teams like the West Coast Fever. She looks forward to not only following in the footsteps of Donelle Wallam, but to forging a path of her own to inspire young Aboriginal girls, young carers and youth who are overcoming challenges of all kinds to reach their dreams.
To find out more about young carers in WA, click here.
Youth Week WA (YWWA) 2023 runs from 14 – 21 April. Themed "Becoming: with others we dream", it is the biggest celebration of young people on the WA youth Calendar. Young carers, aged 8 – 25, are one of one of the four most at-risk groups of young people in Australia.